The Shanghai Cobra Cast
The Shanghai Cobra is full of the character actors that we love to see in the Monday Night Chat Room Movie at www.charliechan.info, 8:00 to 10:00 PM (EST) and we start our tapes/DVDs at 8:30.
Unfortunately we don't always know their names . . .
So here's the cast of charaters so you can keep track of who's who!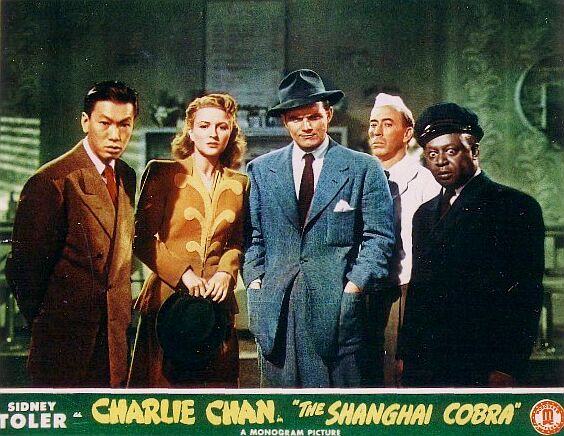 Sidney Toler: Charlie Chan
Mantan Moreland: Birmingham Brown
James Cardwell: Ned Stewart
Addison Richards: John Adams
Arthur Loft: Bradford Harris
Janet Warren: Record Machine Operator
Gene Roth (as Gene Stutenroth): Morgan
James Flavin: H.R. Jarvis
Roy Gordon: Walter Flether
Walter Fenner: Police Inspector Harry Davis
Andy Andrews: Patolman Outside Joe's
George Chandler: Joe, Coffe Shope Owner
Cyril Delevanti: Detective Larkin
John Goldsworthy: Inspector Mainwaring
Stephen Gregory: Samuel Black
Karen Knight: Switchboard Supervisor
Mary Moore: Rita, Laundry Clerk
Paul Newlan: Big Bank Guard
Diane Quillan: Phone Operator
Jack Richardson: Letter Carrier