San Francisco's Old Chinatown, Part 2
[This is the second part of a periodic series by San Francisco's former Chief of Police, Commissioner Jesse B. Cook (1860 - 1938). Part 1 was posted on November 12, 2005.]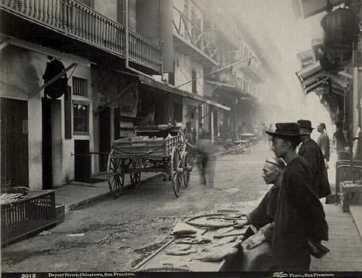 We now come to the starting of the so-called "tongs," commonly known as the 'hi-binders." the first tong was the Chee Kung Tong. Every man coming from China became a member of this tong. It was never known to have been in any trouble, for the Six Companies looked after the Chinese and saw that they were properly cared for.
[The Six Companies looked after the Chinese coming from their respective provinces in China.]
In the early days, a Chinaman known as "little Pete," whose Chinese name was Fong Jing Tong, was interested in quite a number of slave dens, gambling places and lottery houses. The hoodlum element of Chinatown would make raids on these places and demand tribute money, or blackmail. It became so bad that Little Pete conceived the idea of forming tongs to protect his interests. The first tongs he started were the Bo Sin Sere and the Guy Sin Sere, and the guaranteed him absolute protection.
About this time there was another Chinaman, Chin Ten Sing, known as "Big Jim," who also had large interests in a great many gambling, lottery and slave houses. He saw the protection that Little Pete was getting, and as he had to turn to his own houses for protection, decided to start some tongs also. Among thm were the Suey Singsa, the Hop Sings and a number of others.
This proved very successful until the tongs started fighting among themselves over slave girls and gambling games. These wars sometimes lasted for several months.
At one time, I stood at the corner of Grant Avenue (then called Dupont Street) and Clay street with Patrolman Matheson (now Captain Matheson, City Treasurer), and ed Gibson, then a detective sergeant, talking about two tongs that were holding a meeting to settle their troubles. These tongs began fighting among themselves, and inside of a half-hour there seven Chinamen lying on the streets wounded; one on Waverly Pace, one on Clay Street, two in Spofford Alley, two in Ross Alley, and one on Jackson Street. The one in Waverly Place was shot, the bullet cutting the artery in his arm. Captain Matheson and myself took this Chinaman out of the shop where he fell, and stopped the flow of blood by means of a tourniquet. The physician later told us that if this had not been done the Chinaman would have died.