The Chinese Cat
It's time again for The Chinese Cat for our Monday Night Chat Room Movie at www.charliechan.info, 8:00 to 10:00 PM (Eastern time) and we start our tapes/DVDs at 8:30.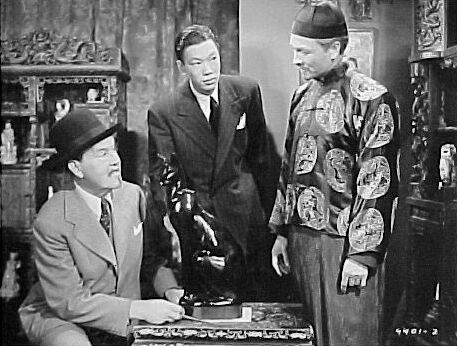 (Charlie Chan and Tommy Chan with Luke Chan as Wu Song!)
Since you can't tell the players without a programme! . . .
[Especially since Jack Norton isn't doing his usual drunk and Luke Chan isn't a Chan but Wu Song!]
Sidney Toler: Charlie Chan
Joan Woodbury: Leah Manning
Mantan Moreland: Birmingham Brown, Taxi Driver
Benson Fong: Tommy Chan, # 3 Son
Ian Keith: Dr. Paul Rebnik
Cy Kendall: Webster Deacon
Weldon Heyburn: Detective Lt. Harvey Dennis
Anthony Warde (as Anthony Ward): Catlen
John Davidson: Carl Karzoff/Kurt Karzoff
I. Stanford Jolley (as Stan Jolley): Gannet
Betty Blythe: Mrs. Manning
Jack Norton: Hotel Desk Clerk
George Chandler: Hotel Doorman
Sam Flint: Thomas P. Manning
Terry Frost: Policeman giving parking ticket