Charlie Chan at the Olympics
Charlie Chan at the Olympics has a great cast of character actors.
We start our Monday Night Chat Room Movie (www.charliechan.info, 8 to 10 PM, Eastern Time) with Katherine De Mille as Yvonne Roland.
She's the infamous "Lady of the White Fox Fur!"
Who can forget Layne Tom, Jr. as Charlie Chan, Jr.?
With the possible exceptions of when he plays Willie Chan?!
And Pauline Moore, who also had such an impact in Reno.
[You have to look for her but she was one of Mae Clarke's bridesmaids in "Frankenstein!"
We also have several repeat performers, including C. Henry Gordon, John Eldredge and George Chandler of "Stew" fame in "Shanghai Cobra!"
Olympics also has two other ladies of note: Teresa Harris as a member of the US Team on the sidelines in Berlin. She's the only black actress in the Chan movies who DIDN'T play a maid!
Minerva Urecal [don't you love her name?] went from playing the Matron in the Girls' Dorm in the Berlin Olympic Village to the housekeeper in "The Trap" (the last Toler Chan).
I just wish we know what part John Carradine played before his scenes were cut out!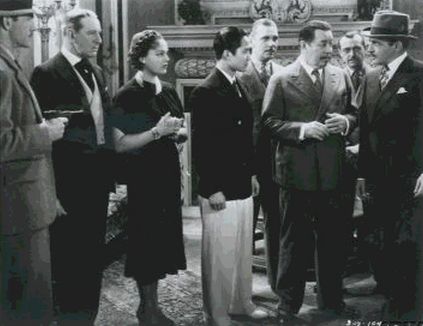 Warner Oland: Charlie Chan
Katherine De Mille: Yvonne Roland
Pauline Moore: Betty Adams
C. Henry Gordon: Arthur Hughes
John Eldredge: Mr. Cartwright
Lane Tom, Jr.: Charlie Chan, Jr.
Morgan Wallace: The Honorable Charles Zarakas
Frederick Vogeding (as Fredrik Vogeding): Inspector Strasser
Andrew Tombes: Chief of Homicide E.R. Scott
Arno Frey: Carlos, Zaraka's Henchman
David Horsley: Test Pilot Edwards
Howard C. Hickman (as Howard Hickman): Dr. Burton
John Carradine: (Scenes Deleted)
Stanley Blystone: New York Policeman
Walter Bon: Polizei Officer
Don Brodie: Radio Announcer
Glen Cavender: Polizei Officer
George Chandler: Ship's Radio Operator
Hans Fuerber: Polizei Radio-Car Officer
Teresa Harris: Black US Team Member Rooting for Jesse Owens
Oscar "Dutch" Hendrian: Miller, Test Plane Hijacker
Selmer Jackson: Navy Commander
Edward Keane: Army Commander
Al Kikume: Uniformed Officer at Microphone/Desk in Police Station
Virgil B. Nover: (Unknown)
Paul Panzer: German Undercover Officer Posing as Snack Vendor
John Peters: Polizei Radio-Car Officer
Caroline "Spike" Rankin: Miller's Landlady
Perry E. Seeley: (Unknown)
Minerval Urecal: Gang Member Posing as Olympics Matron
Dale Van Sickel: (Unknown)
Emmett Vogan: Ship's Officer
Wihelm von Brincken: Polizei Officer
Billy Wayne: Ship's Steward Guarding Stateroom
Louis Natheaux: (Unknown)