We have a dangerous cast in Dangerous Money, our Monday Night Chat Room Movie at www.charliechan.info, 8:00 PM to 10:00 PM (Eastern Time) and we start our tapes/DVDs at 8:30!
At least two people aboard the S.S. Newcastle can throw knives, there's two blackmailers, and one murderer. . . .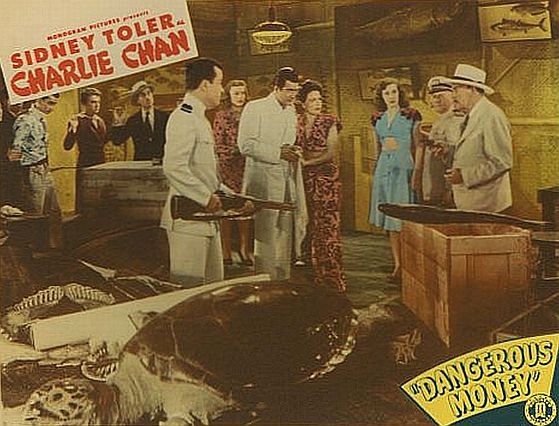 Well, for starters, we need to identify the possible suspects so here goes!
Sidney Toler: Charlie Chan
Gloria Warren: Rona Simmonds
Victor Sen Young: Jimmy Chan
Rick Vallin: Tao Erickson
Joseph Crehan: Captain Black
Willie Best: Chattanooga Brown
John Harmon: Freddie Kirk
Bruce Edwards: Harold Mayfair
Joe Allen, Jr.: George Brace
Amira Moustafa: Laura Ericson
Tristam Coffin: Scott Pearson
Ann Douglas: Mrs. Whipple
Selmar Jackson: Ship's Doctor
Elaine Lange: Cynthia Martin
Emmett Vogan: Professor Henry Black
Leslie Dennison: Reverend Whipple
Don McCracken: Junior Officer