Reno Divorces, Part 1
Charlie Chan in Reno, our Monday Night Chat Movie,* touches on Reno being the (then) divorce capital of the world.
Rush Glick has an article by Amber Martin, University of Nevada, Reno, in his very extensive notes on this movie at his incredible website, The Charlie Chan Family (www.charliechan.info):
["Reno Divorce Wife," courtesy
"Reno by 1910 was known as the divorce capital," William D. Rowley, a history professor at the University of Nevada, Reno, said. "A divorce capital with a residency requirement willing to be shortened to beat the competition and bring in the famous divorces Reno has become known for.
"From the civil war on, divorce law in the nation started to tighten up. I suppose in reaction to a greater demand to protect Victorian values," Rowley said.
However, the divorce law in Nevada did not change from the law in existence during territorial time until after New York lawyers discovered Nevada quickie divorce in 1898.
In 1913 the progressive movement and morality reform managed to persuade state representatives to chang what had been a six-month residency requirement to a one-year requirement. This put Nevada's quick divorce at the year-long process many other states were at.
The year requirement did not last long with lobbying from business owners and representatives pushing for the residency requirement to be back at six months. In 1915 Nevada's business owners got their wish. The income brought into Nevada through the divorce business caused a push in 1927 for the Nevada residency to be lowered to three months, and in 1931 the requirement went down to six weeks.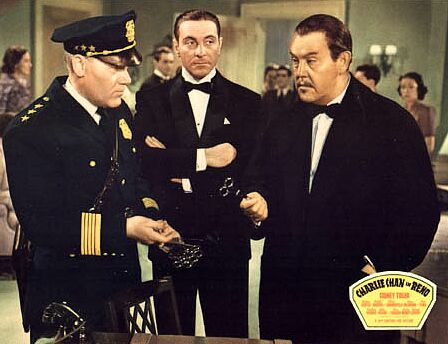 [Charlie Chan and Chief of Police King cut up
on the job, courtesy of www.charliechan.info.]