San Francisco's Old Chinatown, Part 1
San Francisco's Old Town was an article by Commissioner Jesse B. Cook (1860 to 1938). He began as a beat officer in the late 1880s and became a sergeant in the "Chinatown Squad." Cook became Chief of Police after the earthquake hit in 1906 and later appointed onto the Police Commission.
There is more to his biography which I will include in future installments of his description of Chinatown's conditions in San Francisco prior to the "Great Earthquake and Fire of 1906" from the perspective of a "Chinatown Squad" member.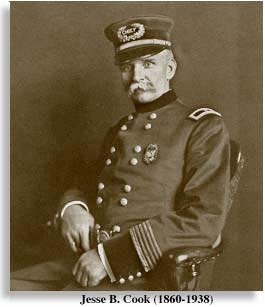 San Francisco's Chinatown has been known to me since childhood, when it occupied only Sacramento Street, Kearny Street, and halfway up Stockton Street. One of my early recollections was attendance at the First Baptist Sunday School in 1866. It was then located on the north side of Washington Street, about 100 feet east of Stockton.
Chinese at that time were coming in from the Orient at about 1,4000 on every steamer. True it is, they had been coming in since 1848, but relatively few at a time. Therefore, there was quite a number of the pioneer Chinese here in the days of the old "gold fever." These Chinese had come on the old Pacific Mail steamers. The customs house officers would search each Chinaman as well as his baggage, and then chalk-mark him with a cross. After a sufficient number had been marked to fill up a good-sized express wagon, it was the custom to throw all baggage onto the wagon and place each Chinaman on top of his belongings. It was a common sight to see these express wagons going west on Brannan (the old Pacific Mail docks were located on First and Brannan Streets) to Third Street, along Third Street of Market Street, crossing Market Street to Kearny, and along Kearny to Sacra mento Street were they would be discharged to go to the different "companies" to which they belonged. Although all of these Chinese were from the province of Canton, they spoke different languages and dialects.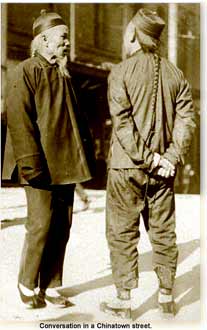 In way of explanation, there were for instance Hock Kah men; they were all barbers. Then again, there were See Yup men; they were all laboring men. The Sam Yups were all business men and they invariably controlled the business of Canton as well as the business in San Francisco's Chinatown. A See Yup man was not allowed to enter into competition with a Sam Yup. It was impossible for the See Yup men to get any goods at all from Canton as the merchants in Canton, China, would only sell to their own people, the Sam Yups.
There were, of course, other provinces represented by the Chinese Six Companies. The Six Companies looked after the Chinese coming from their respective provinces in China. When sick, the Chinese were cared for by and through the Six Companies. This care lasted up to the time of death, when the Chinese Six Companies saw to it that proper burial was given. In due course, the bones of the Chinese were taken up and shipped back to their homes in China. This is a custom that has endure over the past centuries. The Chinese have a peculiar superstition that if they are not buried in China, it will be very unfortunate for the members of their families and for their descendants.