The Golden Eye is this week's Monday Night Chat Room Movie at www.charliechan.info, 8:00 PM to 10:00 PM (Eastern) and we start our tapes/DVDs at 8:30.
The cast is a mixed bag because the actors are great but several of them had their scenes deleted from the final cut!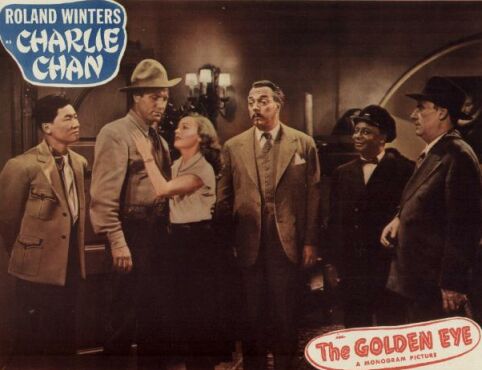 Plus . . . we have Sam Flint as Dr. Goves and George Spaulding as Dr. Gove (replaced by Sam Flint) and no "s" about it?!
Roland Winters: Charlie Chan
Wanda McKay: Evelyn Manning
Mantan Moreland: Birmingham Brown
Victor Sen Yung: Tommy Chan
Bruce Kellogg: Talbot Barlett
Tim Ryan: Lieutenant Mike Ruark
Evelyn Brent: Sister Teresa, Nurse
Lois Austin: Mrs. Margaret Driscoll
Herman Cantor: (scenes deleted)
Richard Loo: (scenes deleted)
Sam McDaniel: (Undetermined Role) (scenes deleted)
Tom Tyler: (scenes deleted)
Barbara Jean Wong: (scenes deleted)
Geraldine Cobb: Girl in Riding Clothes
Jack Gargan: Voice from the Darkness
Mary Ann Hawkins: Bathing Girl
George Spaulding: Dr. Grove (replaced by Sam Flint)
Bill Walker: (Undetermined Role)