The Black Camel
What do you see in your mind's eye?
Warner Oland and Bela Lugosi?
Or Oland's Charlie Chan getting after his assistant Kashimo?!
What about the blue waves of the Pacific Ocean with surfers on their boards, hoping for "the big one" to crest and carry them to the next wave?!
Wouldn't you love to stayed in the beautiful and glamorous Royal Hawaiian Hotel and come away with a Panama Hat like Charlie's?!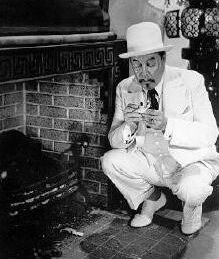 I found lots of neat pictures to go with The Black Camel so sit back and enjoy!
"This real photo postcard shows
'Air view of Waikiki Beach,
Royal Hawaiian Hotels.'")
*It's our Monday Night Chat Room Movie at www.charliechan.info, 8:00 PM to 10:00 PM (Eastern Time) and we start our tapes/movies at 8:30. Those who don't have our movie are urged to come too since we cover a lot more territory than just the movie!