The Black Camel, our Monday Night Chat Room Movie*, has quite a cast.
You know you're in for a special evening when you have the likes of Robert Young (Marcus Welby, M.D.), Bela Lugosi and Dwight Frye from Dracula to Mary Gordon, Mrs. Hudson to Basil Rathbone's Sherlock Holmes!
How many of these great character actors can you place by name?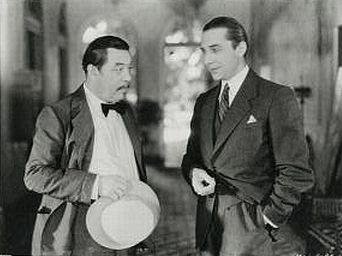 (Charlie Chan [Warner Oland] and Tarneverro [Bela Lugosi] in the lobby of the Royal Hawaiian Hotel in Honolulu, Hawaii)
Warner Oland: Charlie Chan
Robert Young: Jimmy Bradshaw
Victor Varconi: Robert Fyfe
J.M. Kerrigan: Thomas MacMaster
Marjorie White: Rita Ballou
Mary Gordon: Mrs. MacMaster
Robert Humans: Chief of Police
Sally Eilers: Julie O'Neill
Dorothy Revier: Shelah Fane
Richard Tucker: Wilkie Ballou
William Post, Jr.: Alan Jaynes
Louise Mackintosh: (Undetermined)
Hamilton McFadden: Movie Director
Melvin Paoa: Hawaiian Beach Boy
Ivy Ling [aka Bo Ling]: Number One Chan Daughter