Charlie Chan's Secret* has the character that I have taken as my sometimes "nom de Chan"~~Henrietta Crosman.
She was born in Wheeling, West Virginia, on September 2, 1861; and she died in Pelham Manor, New York, on October 31, 1944.
October 31st is ironic since CC's Secret is my favorite movie, especially at Halloween!
Crosman was also the grandniece of song-writer, Stephen Foster.
(As Rosalind in As You Like it)
. . . Miss Crosman has generally been recognized as a very great actress and records state that As You Like It was perhaps the only Shakespearean Production to gain attention at the time whe was playing it. Miss Crosman has related the following story of Stephen Foster, who often wrote songs which he did not consider good enoght to publish: " 'Uncle Stephen' my mother once asked him, 'why do you take the trouble to write out those ugly things that you tear up almost as soon as you have them on paper?' 'Because' he replied, 'it is the only way I can get them out of my head and make room for something better'."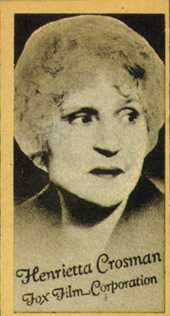 Henrietta Crossman worked as former leading stage actress and in films for twenty years from 1914. (www.imdb.com)
*CC's Secret is our Monday Night Chat Room Movie at www.charliechan.info, 8:00 PM to 10:00 PM (EDT) and we start our tapes/DVD's at 8:30.