Fellow Chan Fan Jonathan Geffner has news for us about his short movie, Boxford Park, featuring Trillo and Suede.
(Sam Suede and Van Trillo)
To quote Jonathan himself:
Our short film, Oxford Park, is now streaming online at the Con-Can Film Festival, Tokyo, Japan. It is one of 30 selected from more than 300 entrants to the festival. Visitors to their web site can watch and judge (rank) any or all of the selected short films, including Oxford Park, between now and January, 2006. The film with the highest overall ranking will win a Big Prize.
Here is the link to the Con-Can web site. Click on "Sign up for viewing (free)", then visit the Screening Room and enjoy the films:
Oxford Park will also be screening at these upcoming festivals:
Bethel Film Festival in Bethel, CT, on Saturday, Oct. 29 at 7:15 pm, and again on Sunday, Oct. 30 at 2:00 pm.
Big Apple Film Festival on Saturday, Nov. 19 at 5:30 pm, held at Anthology Film Archives, 332 2nd Ave., NYC.
NYIIFVF Film Festival on Saturday, Nov. 14 at 4:00 at Village Cinema, 2nd Ave. & 12th St., NYC.
Northampton Film Festival, MA, Nov. 9-13. Details to follow.
Oxford Park ahs recently screened at the Bluegrass Film Festival, Louisville, KY, the Twisted Spine Micro Film Festival, Cleveland, OH, and the Golden Lion Film Festival, Swaziland, Africa.
If you have not yet seen Oxford Park, there is the link to the "free" download page on our website:
You can also down download on this page our mini-documentary, Two Days in January - the Making of Oxford Park. And click on the Projects page to download our New York Promo video for the Trillo & Suede film and tv project, as well as an outtakes video. All downloads are *free* on our website. If you want the full high-res experience, though, You can bu our dvd at our online store:
As soon as we can raise sufficient funding, we are planning to shoot "Trillogy" - a three film Trillo & Suede saga set in varied locations. If you like our short - Oxford Park - and might be interested in investing in our feature films - please contact me to discuss it.
(Courtesy of http://triloandsuede.com/Geffnerhome.jpg">
Please forward this email to all your friends. We are trying to spread the word about this project - and our fund-raising campaign - to as many people as possible through "word-of-mouse."
Can a dummy find justice in a human world?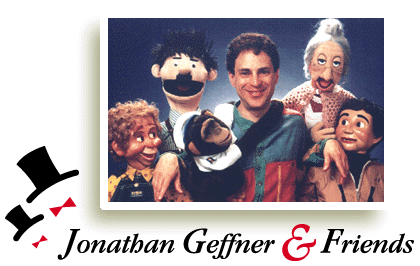 (Here's our very own Jonathan surrounded by his staff
of hard-working dummies. Aunt Sarh is in the
upper right-hand cornere and Sam is just
Miss Maven guarantees that you'll never
see dummies in the same way ever again!
Now let's go support Boxford Park and
best
of luck to Jonathan, Sam,
and Aunt Sarah!