Trillo and Suede in Boxford Park
I have fallen in love with a new movie detective team that takes us back to when the Charlie Chan movies were in their heyday!
We're talking about a movie that Monogram WISHES they could have made in England at the end of Roland Winters' run as our Chinese detective in 1949!
We're talking about Jonathan Geffner's "Boxford Park" that he stars in with his good friend, Suede, as "Trillo and Suede."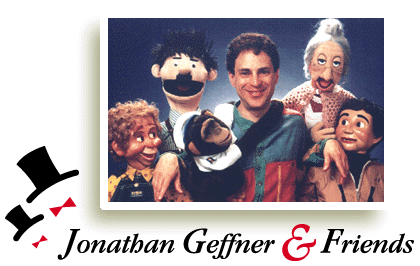 (Maybe it's the other way around.
It depends on who gets to you first!)
I've also fallen in love with some of the stills from the movie. . . . How can you not with a better-looking team with more talent than Edgar Bergen and Charlie McCarthy?!
How did my picture get in--oops, sorry, that's Aunt Sarah!
And these folks are for the dummy-challenged among us!
Jonathan is trying to get "word-of-mouse" out about "Boxford Park" plus raise much needed capital to turn it into a full-length feature plus at least 12 episodes of our heroes.
Anybody who would be interested can contact Jonathan at:
Geffner Productions, Inc.