Charlie Chan and son come across a bottle of red ink in The Red Dragon.* It's a possible clue to their mystery.
A bottle of ink may very well be what the suspect uses but my mother was taught to usually use in Chinese calligraphy and painting was ink sticks.
This gentleman is holding a Chinese brush about the same way you hold an ink stick like the ones below.
You'll find a grinding stone in the center of this set with a smaller bowl for water. You use the spoon in it to transfer only the amount of water you need at the moment to the larger container to grind the stick to the desired thickness of ink.
Believe me, it's a lot easier to do than describe. Of course, mastering the actual art of Chinese calligraphy or painting is something else!
Maybe I should have the actual calligraphy lesson some other time!
What, no Chan picture? No way!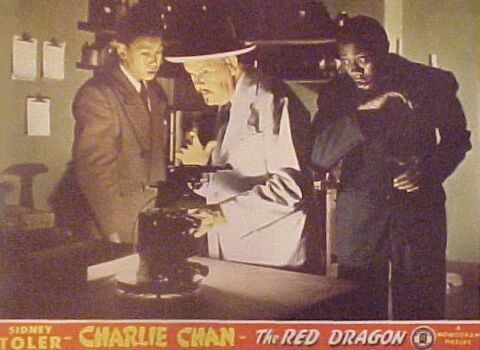 *The Red Dragon is our Monday Night Chat Room Movie at www.charliechan.info, from 8:00 P.M. to 10:00 P.M. (EDT). We start our movies at 8:30.