We've reached the final post of our Warner Oland salute
by Steve Rhodes. You can see Oland's second foray as
our favorite dectective in Charlie Chan in London and
from 8:00 P.M. to 10:00 P.M. (EDT) and we start watching
the movie at 8:30. I hope to see you there!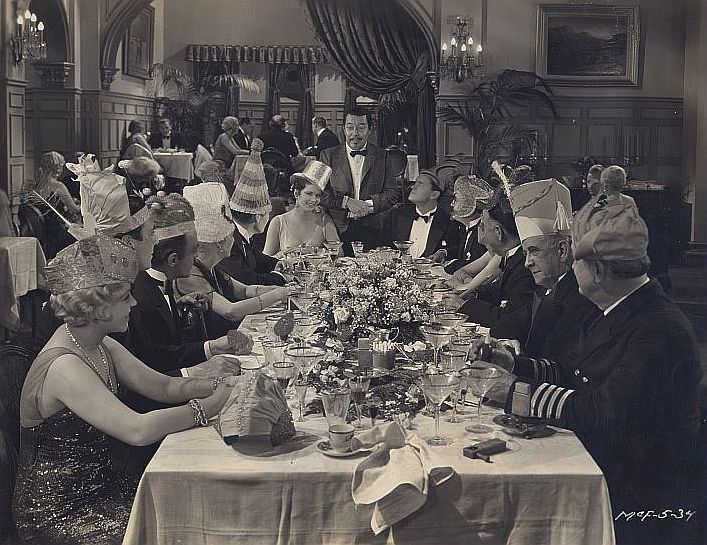 (This still is from Warner Oland's first
Chan
movie,
Charlie Chan Carries On, 1931;
courtesy of www.charliechan.info.)
Warner Oland Insights, part 6:
Early August 1938. In Stockholm, Warner Oland was in hospital with bronchial pneumonia. He'd been a heavy smoker for years and perhaps this, combined with a climate change from Southern California to his birthplace in Northern Sweden, and a weakened physical condition, may have been too much. News of his serious illness made its way to his estranged wife back in the US and she prepared to leave for Sweden to be by his bedside. They'd been working on a reconciliation, it is said, prior to his departure for Europe. But at 3 P.M. Stockholm time on the 6th of August, in a Stockholm hospital, Warner Oland died. As he had said as Charlie Chan in CC in Egypt, "From Life to death is span of man." Warner's span was 58 years. (Keye Luke would later relate how Warner died in his mother's bed but, as comforting and poetic as that may be, the reality is that it was more likely in an oxygen tent in hospital.) Back in Hollywood, the Fox "B" unit was shocked by the news that their Charlie Chan was dead. Sol Wurtzel gave the crew the rest of the day off out of respect for Warner.
Edith Oland continued to prepare for her trip to Sweden but it as now to see to the return of her husband's remains to the US and to tidy up the considerable loose ends on both sides of the Atlantic.
Warner Oland had made his final will and testament on the 11th of May, 1937. In that he left all his worldly goods to his wife, "Edith Shearn Oland." In the will, the amount of $50,000 was the estimate of the value of said worldly goods. (But how does theis relatively small amount sit with the "1000 acres on the Mexican island, house in Massachusetts, buildings and acreage on the coast near Santa Barbara . . ."? Or her own property?) The estate was eventually assessed for probate at $46,527.72.
Provision was made in the will for his relatives back East and here we get a glimpse of the Oland clan as it stood in 1937. Firstly they are all refereed to as "Oland." It seems the whole family had adopted the spelling in the US, not just Warner for "showbiz" purposes. (Later death records for these relatives confirms the spelling, so it wasn't just a clerical assumption in an LA law office.) In the event of Edith having died before the will came into effect, it was Oland's intention to distribute the legacy to: "Carl O. [G?] Oland, brother, 80 Niland Street, Hartford, Conneticut." "Carl Warner Oland, nephew (minor), same address." "Albert A. Oland, brother, Ewan, New Jersey" and nephew and nieces Paul, Elinore and Margaret Oland, Ewan, New Jersey." In the event of Edith being still living then these relatives were to receive $1,000 each.
Meanwhile, back in Stockholm, Edith arrived to take charge of matters. She stayed at the Grand Hotel in Stockholm and it was to here there that a Swedish bank wrote requesting she settle the matter of Warner's overdrawn cheque account, in the amount of 190 Kroner.
She arranged for Warner's cremation and the shipment of his ashes back to New York. (That she didn't take the ashes back personally is inferred by a charge of 225 Kroner by the Swedish undertaker, for shipment to New York.) She cabled Boston lawyer Harrison Schaff to arrange a cemetery plot and he did so acquiring lot 51 of Block 10 into the Southborough Cemetery in Mass. for $50, with an extra $100 for perpetual care of same. The ashes arrived and the size of the burial ceremony may be deduced from the invoice from Gregg and Sons Funeral Directors, all of $25.
On arriving back in Hollywood, she had to, as Warner's nominated executrix of his estate, have to start sorting through the claims that started to roll in. Jack Gardner, his agent and to whose home he had gone after leaving Edith, made a claim for $17,000 and in company with his wife, Louise, and further claim for $900 [sic]. (Had they been counting every sardine Warner ate at their home?!) Edith rejected the claim. They sued. She settled for about $1200 total. Another curious claim came from Catherine F. Ryan. Yes, the "nurse/secretary" referred to in several sources. She had accompanied Warner to residence in the Gardner household, and now claimed $1193.17. She got it in the final probate settlement. We can only speculate on what the basis of that claim was since it is inferred by all sources that she was a studio employee. Other claims were paid to "The Orient" (unspecified entity), for $664.05 and to someone called Vernon Snively for $110. (Why does that name inspire instant dislike?!)
Another disputed claim was by a Dr. Eugene Jacques Usukor (sp.?) for $925. Edith refused, the Doc sued, they settled on $400. Then the lawyers jumped in for a couple of thousands for services rendered.
All this took until early '41 to settle. Thankfully Warner was past caring.
Time passed, some of those nieces and nephews eventually lived and died in LA themselves. Edith, the tough little old Bostonian, died aged 98 in 1968. Milton, the loyal chauffeur, in 1980.
So why did Warner make so effective a Charlie Chan? To me, after thisresearch, it was because he was himself a philosopher, a foreigner adapting culturally and liguistically to a new land and a gentle soul in a hard world. Warner, wherever ya are, take a bow.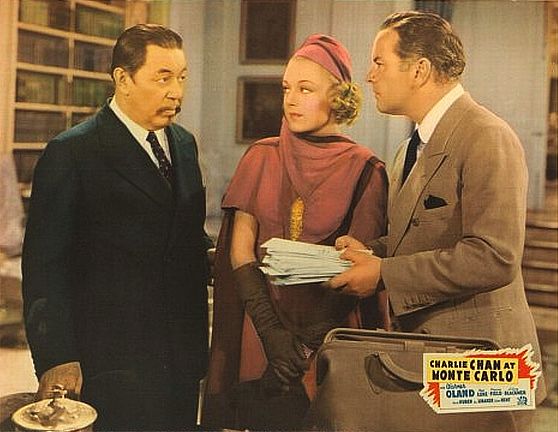 (This is from Warner Oland's last movie,
Charlie Chan in Monte Carlo, 1937;