We've come to part 5 of our tribute to Warner Oland, hero in Charlie Chan in London, our Monday Night Chat Room Movie (www.charliechan.info, 8:00 P.M. to 10:00 P.M. [EDT]).
This covers Oland's Chan career: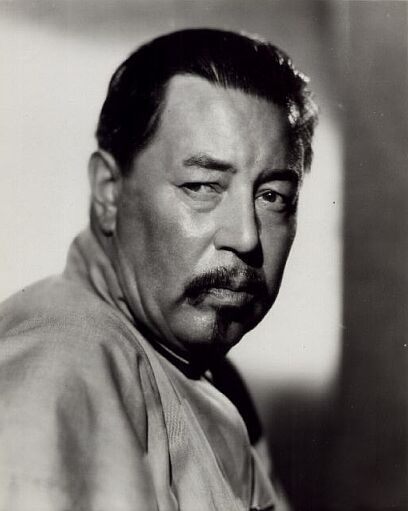 (From Charlie Chan's Courage, 1934;
Warner Oland Insights, part 5:
Of course we all know that Warner Oland first appeared on screen as Chan in Charlie Chan Carries On, in 1931. But he doesn't make an appearance until about half way into the movie. It's as if the studio still wasn't sure about how popular an Oriental hero might be. But it was an immediate hit and studio research showed that Charlie's character was the main asset of the movie. So with the next movie, The Black Camel, Charlie was in the thick of it from early in the movie. The studio's confidence in the format is evidenced by the fact that they allowed Carries On director Hamilton McFadden to shoot the movie on location in Hawaii, with all the extra expense and possible production problems that meant. (Warner Oland was paid $10,000 for his role in Carries On but got a pay raise to to $12,500 for Camel and subsequent Chan movies up to Circus, when he finally got the $20,000 a movie he had been asking for since B[lack]C[amel].) The next 3 movies emerged slowly, one each in '32, '33, and '34. During these years Warner Oland was playing other roles and it must have been [a] rewarding time professionally. I won't go into much detail about individual movies, you all know them well.
The rewards of his career allowed for a comfortable, if not a lavish, lifestyle. Edith and Warner Oland traveled widely between movie assignments. Edith Oland was by all accounts a lady with a strong personality, described variously as "electric," "terrific" (used in its 1930 context meaning "awe inspiring") and "more energy that I've ever seen in a woman." (It seems correct that she was 10 years lder than Warner.) It gives the picture of Edith being the boss at home. An article in 1937 referred to the colors of "the two bedrooms," inferring they had separate rooms. And it also mentions Warner's trouble sleeping and his habit of getting up at night and delving into his private stock of Swedish sardines. He'd sit out on the verandah looking out over the sea, listening to Bach on his phonograph and snacking on sardines. He and Mrs. Oland would swim every morning in the sea near their house and Warner cold be found on his off duty days sitting out in the sun "like a bronze Buddha, in sunglasses and a straw coolie hat."
Although the Olands didn't have any children themselves, Warner certainly seems to have enjoyed their company. Visitors' children could expect to hunt sea shells with him on the beach and be treated to little performances of the Princess Ming Lo Fu song [from Charlie Chan in Shanghai]. He would also dress up in one of his Oriental robes and do samurai routines, using spoons for swords! A story is told about an incident on the location shoot of CC at the Race Track, Warner and Keye Luke had swiped some of the fireworks from the Chinese laundry van that was due for that explosive end. The pair were found staging an impromptu 4th of July for local children, the noise of which was spoiling scenes the crew were trying to shoot! His fondness for children is shown also in his provision in his will for nieces and nephews back on the East Coast. (More about them in the next, final chapter.)
But something wa wrong and Warner's drinking got worse. It began to effect his work and in that same CC at the Race Track he had to be held up by extras for the scene by the race track rail so he wouldn't fall down. A "nurse" was assigned to him apparently to curb his drinking but he always seemed to find a way around her. This "nurse" is referred to in several sources and seems to have figured prominently in Warner's last couple of years. Her name was Catherine F. Ryan. She is referred to as a "Secretary" in some sources and there will be more on her in the final chapter.
By 1936, Warner Oland was making only Chan movies, at the rate of 3 a year. They were shot in 4 weeks with an extra week for reshoots. The Fox "B" unit was a well-oiled machine and the time from first shooting to release of the finished product was about 3 months. They made about $1,000,000 each from a cost per movie of about $250,000.
Everybody was winning . . . until about 1937, when the Olands' marriage broke down and Warner moved out of his home and into the Beverly Hills home of his agent, Jack Gardner and his wife, Louise. "Nurse/Secretary" Catherine Ryan went with him. (All 3 would later make financial claims on his will after his death, so he was surrounded by people not necessarily motivated by concern for his personal welfare.) He got through production of his final completed Chan movie, CC in Monte Carlo, and it was well received by critics.
Keye Luke paid a visit to Warner at the Gardner home around New Years and found him quite well. "It was a grand visit, it was good to see 'Pop' in such good spirits," he would tell an interviewer many years later. The two enjoyed a real friendship off-camera.
But he was back at work on the 10th of January, 1938, to start shooting CC at the Ringside. It was an unwell Warner Oland who stepped onto Sound Stage 6 of the Fox lot. Right from the start he was troublesome and the production went badly. He walked off the production several times over the next 7 days and on the 4th walkout, on the 17th of January, the production was abandoned and Warner placed on suspension. Some $100,000 had been spent and the studio was threatening to sue Oland to recover it. But his life was falling apart and he was found wandering the street one night unable to say who he was. By February he was in hospital for a month and seemed to recover somewhat. He seemed sufficiently improved for the studio to sign a new 3 picture deal with him at $30,000 a movie. All agreed he needed a break and he set off on a journey back to his roots in Sweden. (Variety's obit says by "freighter.") He may have visited his brothers and relatives in New Jersey and Conneticut if he departed from New York.
It's unclear what path he took back to Sweden but it may not have been direct since he'd told Keye Luke he "longed to see once more the chestnut trees of Florence."
By August, 1938, though, he was back in Sweden and the final curtain was about to come down on his life.
Back in Hollywood they were frantically trying to contact him to return because on the 3rd of August they had started pre-production on the Oland version of CC in Honolulu.
Next chapter we lose Warner and the vultures gather over his estate.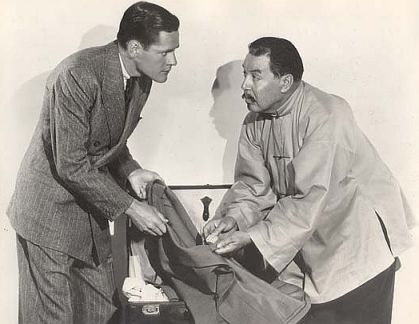 (From Charlie Chan's Courage,1934;