We're doing something a little differently today for Castle in the Desert . . . our Monday Night Chat Movie at www.charliechan.info (8:00 P.M. to 10:00 P.M. [EDT], the movie starts at 8:30).
Today is picture day.
Our first one is a mystery photograph. That is, who is the person in it that is also in Castle in the Desert?
The movie this is from is The Bat, the version with Agnes Moorehead who is on the right. The answer is at the bottom of today's post!
This picture is from Kurt Schmidt's www.charliechan.net and shows Sidney Toler "behind bars" with Victor Sen Yung in Castle in the Desert!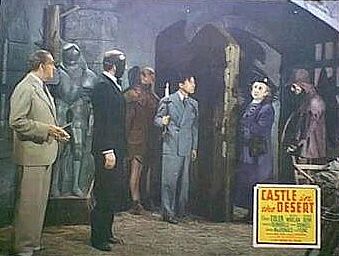 This photograph of the Castle in the Desert cast is from Rush Glick's www.charliechan.info. I think they look like they're getting ready to trick or treat!
Our mystery picture? That's Lenita Lane at the top and center of the picture, above Darla Hood (formerly of Our Gang fame). She played Lizzie Allen to Ms. Moorehead's Cornelia Van Gorder. The lady on the left is Elaine Edwards, who played Mrs. Bailey.
Hope you enjoyed the pictures!