I have some behind-the-scenes goodies today from none other than Kay Linaker, herself, on Charlie Chan in Rio*!
Chad Bennett, a former student of Ms. Linaker's (now teaching at Keene College in New Hamphsire as Kate Phillips), was with us in Rush's chat room in mid-October of 2002.
He told us her reflections from the set, such as that it was Ms. Linaker's favorite Chan film to work on and, in her opinion, the best written out of all the Chans.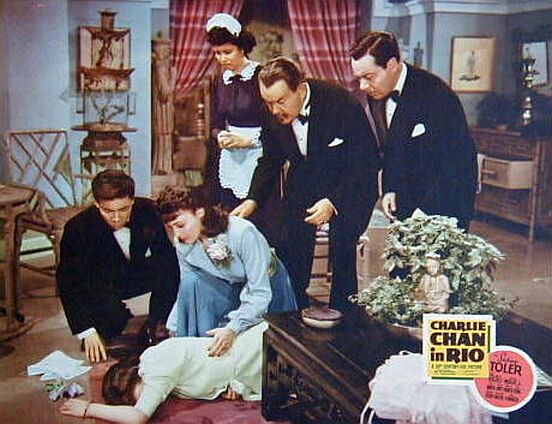 +
The five-time Chan actress also had some interesting comments on her co-workers on Charlie Chan in Rio:
The cast kept trying to set Iris Wong (who played Lola Dean's maid) up with Victor Sen Yung since they seemed perfect together. [I think it carries over to their on-screen relationship.]
They kept trying, that is, until they found out that Ms. Wong was already married! She had secretly gotten married because she didn't want her traditional Chinese family to know that she'd married a Caucasian man.
Iris Wong may have already been pregnant during the making of CC in Rio and Kay Linaker later became Godmother to her child.
Ms. Linaker also had a few things to say about Cobina Wright, Jr., and Mary Beth Hughes, her co-stars in Rio, but I'm saving that for another post tomorrow.
You won't want to miss it because it will add to your pleasure the next time you watch Charlie Chan in Rio!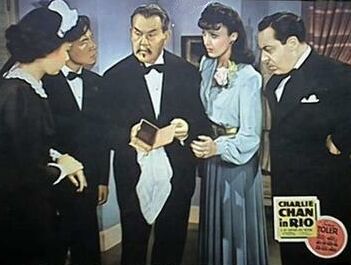 +
+These scenes from Rush Glick's website show Iris Wong and Victor Sen Yung in their best scene together in my humble opinion . . . but then I think that this is possibly the cutest Chan in the whole series!
*Charlie Chan in Rio is our Monday Night Chat Room Movie at Rush Glick's www.charliechan.info, 8:00 P.M. to 10:00 P.M. (EDT), with videos/DVDs starting at 8:30.