Black Magic Bloopers are here for our MONDAY
Night Chat Movie this week,
8:00 P.M. to 10:00 P.M.
(EDT) and we start our movies at 8:30 P.M.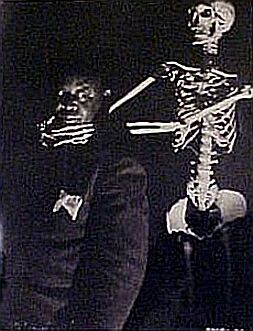 (Courtesy of www.charliechan.info.)
Our first blooper is when Charlie "makes" the skeleton go back into
the wall. His hand remains closed like he's just running it back and
forth instead of the repeated grasping motion needed to actually move
any kind of wire forward.
. . . When Charlie is in the police department explaining how he is psychic,
and the handkerchief dances above his head, take a close look behind
him and you can see the liver going up and down that the prop man is
using to make the handkerchief jump. That's as bad as the scrim in front
of the lamp in Dracula. . . . (Courtesy of Robert S.)
The killer's voice calls to Justine from a partially opened door when she is
on the roof of a tall office building, luring her forward, resulting in her
falling off the roof to her death. He has to be across the street to lure her forward. Isn't he running a risk being heard down on the street (depending
on the heighths of the buildings)?
And what about the killer being seen on the sidewalk where Justine has