I'm checking out a book from our Charlie Chan Library today for Charlie Chan at Treasure Island.
You might like to see if you agree with it!
"Second Feature: The Best of the 'B' Films" by John Cocchi; Citadel Press, 1991; New York, NY, Secaucus, NJ; page 128:
"Charlie Chan at Treasure Island (20th Century-Fox 1939) Directed by Norman Foster. Generally regarded as the best of the Charlie Chan series; certainly the best of all those starring Sidney Toler, Warner Oland's replacement. Strains of 'San Francisco' (Bronislau Kaper-Walter Jurmann-Gus Kahn) are heard before the story gets underway with shots of San Francisco's Treasure Island from the air and land. Writer Louis Jean Heydt (filmdom's eternal victim) dies on a plane, a supposed suicide, but Toler naturally suspects murder. Number Two son Victor Sen Yung is along to aid and obstruct honorable father in usual fashion. Magician Cesar Romero, performing on the island, is determined to prove that mystic Gerald Mohr is a fake, in the course of the investigation. Also mixed up in the mystery are Pauline Moore, Douglas Fowley, June Gale as Romero's jealous wife, Douglas Dumbrille, Billie Seward, Wally Vernon, Donald Mac Bride and Sally Blane (director Foster's real-life wife) as Heydt's widow, with a good deal of atmosphere and some nifty seance scenes, featuring Kay Linaker as the lady in ectoplasm.This presents a well concealed killer. One film from Hollywood's Golden year which should be on the list of the best 1939 Bs."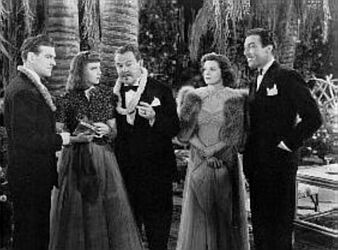 Courtesy of Rush Glick's www.charliechan.info.