Castle in the Desert, our Monday Night Chat Movie*, involves a rather interesting historical figure. Lenita Lane plays Lucrezia (Lucy) Manderley, a supposed descendant of the original Lucrezia Borgia of poison notoriety.
The original Lucrezia lived from 1480-1519 [a short but full life, I'm sure!] during the Italian Renaissance. She was the daughter of Pope Alexander VI and could have written Cole Porter's song, "My Heart Belongs to Daddy."
Apparently, our girl Lucrezia could have sung the song to Brother Dearest, Cesare Borgia, as well!
Her first marriage to Geovanni Sforza (of Pesaro) was annulled five years after the fact in 1497 (which would have made Dear Lu only 12 when she was betrothed . . . and she was supposed to be notorious for POISONING?!?!)
Her brother, Cesare Borgia, saw to her second husband, Alfonso of Aragon (illegitimate son of Alfonso II of Naples) murdered eight years later.
The next year, Lucrezia married Alfonso d'Este, later duke of Ferrara (1505), and began coming into her own right, separate from the soap-opera-ish family of hers.

History doesn't really tell us which of the deliciously scandalous stories are true and which ones aren't but they do help make for some fun movie moments, don't they!

This has been courtesy of
www.infoplease.com/ce6/people/A0808362.html
.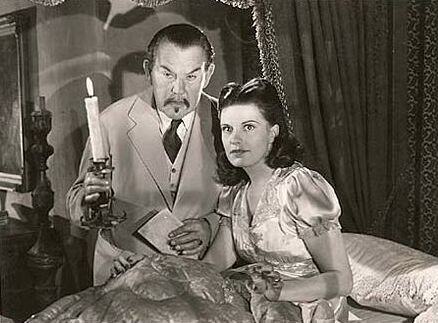 Lenita Lane as Lucrezia (Borgia) Manderley with Sidney Toler as Charlie Chan in Castle in the Desert.
Courtesy of Rush Glick's website at www.charliechan.info, home to our *Monday Night Chat at 8:00 P.M. to 10:00 P.M (EDT). The movie starts at 8:30 sharp! See you there!