Today I am posting the cast of characters* for our Tuesday Chat Room Movie, Charlie Chan at the Opera. [Start time is 8:00 to 10:00 (EDT) at www.charliechan.info.]
This is one of the longer casts in the Chan series:
Warner Oland: Charlie Chan
Keye Luke: Lee Chan
Helen Wood: Alice Fenton
Thomas Beck: Bruce Rogers
Alan Dinehart: George Chester
Gavin Muir: Bagley
Gloria Roy: Catherine Chester
Jonathan Hale: Warren Fenton
G.P. Huntley (as G.P. Huntley, Jr.): Denny Barton
George Irving: Major Gordon Kent
Frank Coghlan, Jr.: Eddie Brill, Jockey
Frankie Darro: "Tip" Collins, Jockey
John Rogers: Mooney, Ship Cabin Steward
John Henry Allen: "Streamline" Jones
Harry Jans: Al Meers
Sidney Bracey: Ship's Steward
James Eagles: Chick Patten
Robert Ellsworth: Cop
Eddie Fetherston: Reporter
Sammy Fin: Gangster
Neil Fitzgerald: Undetermined Role
Paul Fix: Lefty
James Flavin: Detective at Headquarters
Sam Flint: Ship's Captain
Jack Green: Pinkerton Man
Ray Hanson: Third Officer
Eddie Hart: Detective
Sam Hayes: Radio Announcer
Holmes Herbert: Chief Steward, Melbourne Cup
Lew Hicks: Cops
Robert Homans: Judge
Boothe Howard: Ship's Doctor
H. Bruce Humberstone: Gambler
Selmer Jackson: J.L. Lansing, Racing Secretary
Jerry Jerome: Chuck
Colin Kenny: Judge
Al Kikume: Plainclothes Policeman in White Suit
Wilbur Mack: Bookie
George Magrill: Detective
Clyde McAtee: Pinkerton Man
Tom McGuire: Track Official
Ivan Miller: Wade
Lucille Miller: Secretary
Bruce Mitchell: Gateman
Jack Mulhall: Second Purser
William Oakley: Seaman
Pat O'Malley: Track Official
Cyril Ring: Race Track Extra
Leslie Sketchley: Seaman
Larry Steers: Railbird
Harry Strang: Detective
Bobby Tanzel: Gilroy
Forrest Taylor: Man Who Says "I'll phone Al"
David Thursby: Steward
Harland Tucker: Joe, Gangster
Max Wagner: Joe
Robert Warwick: Police Chief
Billy Wayne: Smithers
Charles Williams: Reporter
Norman Willis: Gangster
David Worth: Detective
*Courtesy of www.imdb.com.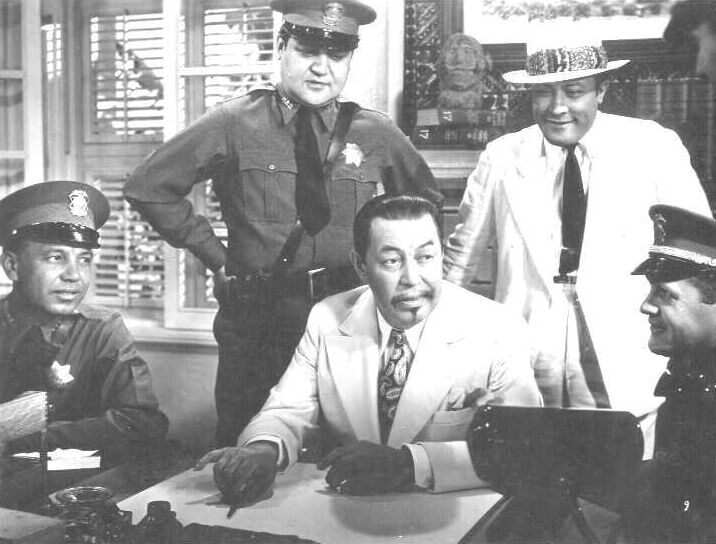 Courtesy of Rush Glick's www.charliechan.info.