It's time again for Joe's Beef Stew!!
Okay . . . okay . . . so it's my family's recipe. Face it--Joe isn't giving his out so you're stuck with ours!!
And, yes, I am posting it again for I've forgotten how many times. No complaints yet and maybe there's somebody who hasn't seen it yet!
I'm also including a lobby card with Joe, himself, to go with it:
. . . . .
Mrs. Chan's* Beef Stew
. . .
Salt, flour and brown two to three cups of chopped-up meat in a dutch oven. You can add beer (that's been allowed to come to room temperature) or Port wine. If you get thirsty, just remember that water is healthier for you anyway! Mother always tried to use left-over prime rib roast but who goes to that much trouble these days?
Cook one large, white, cut-up onion plus four stalks of celery that have been cut into one-inch pieces and cooked until carmelized over low heat for about 30 minutes in a skillet. (Carmelizing is done by putting butter, margarine, Pam, etc., in a skillet and cooking the vegetables over low heat until they start getting a golden glaze on them.)
Add them to the dutch oven with:
2 large and diced potatoes
Corn
Peas
Carrots, sliced
Lima Beans
Veg-All(R)
Whole Tomatoes (big can, breaking up into chunks--I have no idea why Mother went to the trouble of getting canned tomatoes)
Garlic, chopped, minced, or dried (dried garlic should be put into the beer first and anybody who drinks it shouldn't be messing with somebody else's beer anyway--unattended or not!)
1 tablespoon Sugar
Salt, to taste
Pepper, to taste
Bay leaf or two (just be sure to get them out before anybody tries to eat them)
Let cook until a fork slides easily in and out of the meat.
Serve with your choice of bread or cornbread and enjoy!
*For those who are new . . . Mrs. Chan was the "nom de Chan" for my late Mother, Becky Truesdale, who loved her old movies and good food and sharing them!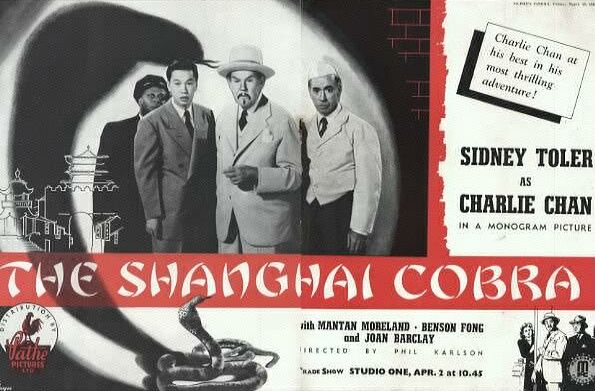 Courtesy of Rush Glick at www.charliechan.info.