It's blooper time for The Shanghai Cobra, our TUESDAY Night Chat Room Movie! Tuesdays for the month of June only but at the regular time: 8:00 to 10:00 P.M. (EDT) with the movie starting at 8:30 P.M.
One blooper that Shanghai Cobra shares with Charlie Chan in the Secret Service is our Charlie leaving a Federal Building that's supposed to be in Washington, D.C., during World War II.
For starters, what is the California State Flag doing flying in front of a Washington building at any time?!?!
You'll notice few people and even fewer cars on the street when Washington was so crowded that people couldn't find transportation or rooms to stay even overnight, much less for an extended period.
The other blooper involves Charlie being in Shanghai eight years before The Shanghai Cobra takes place when Jan Van Horn had been arrested there. Van Horn had been taken aboard a police boat--in handcuffs and bandages (from a burn).
The two policemen with him were standing with Van Horn in the boat (don't ask me why--I've never understood why they made him stand either!) so it was easy for Van Horn to distract one and push the other off balance. So he jumps out of the boat and swims off, still in handcuffs with bandages still covering his head and hands.
Any body that can do that should have been given the role of Superman in my book!
This picture doesn't have anything to do with the bloopers but it does show the "jukebox lady" who figures in the mystery of The Shanghai Cobra!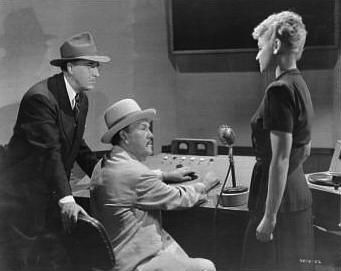 Courtesy of Rush Glick at www.charliechan.info.