It's always a pleasure to list the cast of characters for Charlie Chan in Reno for our last Tuesday Night Chat (8:00 to 10:00 P.M. [EDT], the movie starting at 8:30). There are so many great actors on the list, ranging from ladies like Phyllis Brooks, Pauline Moore and Kay Linaker to such types as Slim Summerville and Eddie Collins!
I'm also including a shot of our Charlie Chan "tending" to some of the suspects!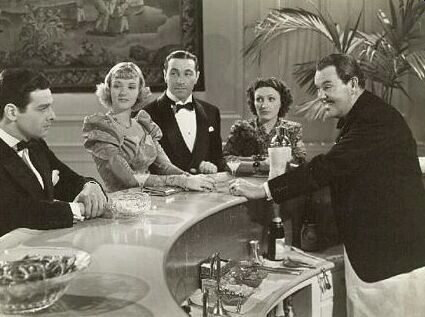 Courtesy of Rush Glick's www.charliechan.info.
Sidney Toler: Charlie Chan
Ricardo Cortez: Dr. Ainsley
Phyllis Brooks: Vivian Wells
Slim Summerville: Sheriff "Tombstone" Fletcher
Kane Richmond: Curtis Whitman
Victor Sen Yung (as Sen Yung): Jimmy Chan
Pauline Moore: Mary Whitman
Eddie Collins: The Gabby Cabbie
Kay Linaker: Mrs. Wayne Russell
Robert Lowery: Wally Burke
Charles D. Brown: Chief of Police King
Iris Wong: Choy Wong
Morgan Conway: George Bentley
Hamilton McFadden: Night Clerk
Arthur Rankin: The Bellhop
Fred Kelsey: Reno Desk Sergeant
Virginia Sale: The Maid Who Is Missing A Passkey
Stanley Blystone: Line-Up Officer
Jimmy Aubrey: Lineup Wiseguy ("Me #3 Son")
Brooks Benedict: Man in Line-Up
Heinie Conklin: Policeman
Bobby Hale: Undetermined Role
Chuck Hamilton: Policeman
Harry Hayden: chemistry Professor
Dick Hogan: Jack, College Boy
Al Kikume: Honolulu Policeman
Barbara MacLain: College Girl
Hank Mann: "injured" Con Man/Casino Extra
Imboden Parrish: Undetermined Role
Jack Perry: Rough Drunk
Edwin Stanley: Police Chemist
Blue Washington: Man in Line-Up*
*Courtesy of www.imdb.com.