The cast for Tuesday's Chat Night Movie,* The Shanghai Cobra, has some well-known characters. Or at least their faces are familiar!
Gene [Stuten]Roth, as Morgan, was also seen in such diverse shows as in The Three Stooges shorts and the Perry Mason series with Raymond Burr in the 1950's. He also appeared in Charlie Chan in the Secret Service with Cyril Delevanti (here as Detective Larkin in Cobra) as the butler.
Addison Richards, as John Adams, was another character actor of note, having played Polly Benedict's father in the Andy Hardy movies.
James Flavin, as H.R. Jarvis, was one of the sailors who went in search of King Kong with Fay Wray, Robert Armstrong, and Bruce Cabot.
George Chandler is the best known of the character actors in Shanghai Cobra as Joe, the coffee shop owner, who kept trying to sell his home-made-from-scratch stew!
Have fun seeing who you recognize!
Sidney Toler: Charlie Chan
Mantan Moreland: Birmingham Brown
Benson Fong: Tommy Chan
James Cardwell: Ned Stewart
Joan Barclay: Paula Webb
Addison Richards: John Adams
Arthur Loft: Bradford Harris
Janet Warren: Record Machine Operator
Gene Roth (as Gene Stutenroth): Morgan
Joe Devlin: Taylor
James Flavin: H.R. Jarvis
Roy Gordon: Walter Fletcher
Walter Fenner: Police Inspector Harry Davis
Andy Andrews: Patrolman Outside Joe's Coffe Shop
George Chandler: Joe, Coffee Shop Owner
Cyril Delevanti: Dectective Larkin
John Goldsworthy: Inspector Mainwaring
Stephen Gregory: Samuel Black
Karen Knight: Switchboard Supervisor
Mary Moore: Rita, Laundry Clerk
Paul Newlan: Big Bank Guard
Diane Quillan: Phone Operator
Jack Richardson: Letter Carrier
William Ruhl: Mr. Grey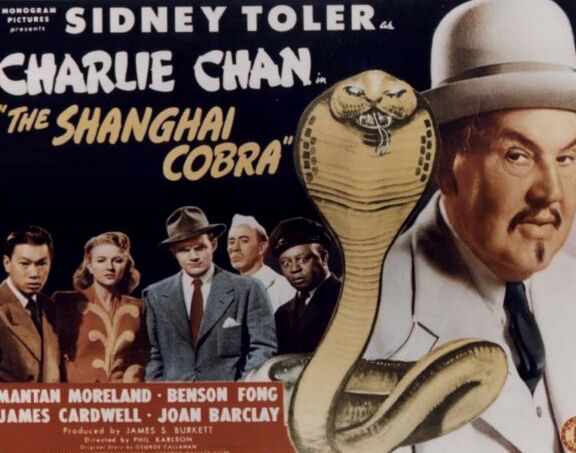 *We are having our Chat Nights on Tuesdays for the month of June only. Regular time is 8:00 to 10:00 P.M. (EDT) with the movie starting at 8:30 P.M. See Rush Glick's www.charliechan.info.