Bloopers Over New York!
We have a few boo-boos from our Monday Night Chat Room* movie of the week: Murder Over New York.
Charlie gets on an American Airline plane at the beginning of the movie. You can clearly see the plane sitting on the tarmac, with its nose in the air. However . . . Charlie and the other passengers are clearly sitting on seats that are parallel to the tarmac!
The airport where Charlie lands is supposed to be in the New York City area. You look carefully at the area and you realize that it might be either the Los Angeles Airport or, more likely, the Burbank Airport.
Plus . . . why is there a discrepancy between when Charlie's flight is scheduled to land and when it actually lands? (Courtesy of Rush Glick)
Charlie, Jimmy and Inspector Vance keep changing places by the car after Charlie arrives at the airport.
The fingerprint man's pencil knocks over the model plane that sits on George Kirby's desk. (Courtesy of Rush Glick)
How does the pearl out of June Preston's necklace get into the ink well on that same desk?
What was Charlie thinking when he went to see June Preston and Patricia Shaw--individually, no less--AFTER a dinner party without a chaperone?!
. . . . . .
*See Rush Glick's www.charliechan.info.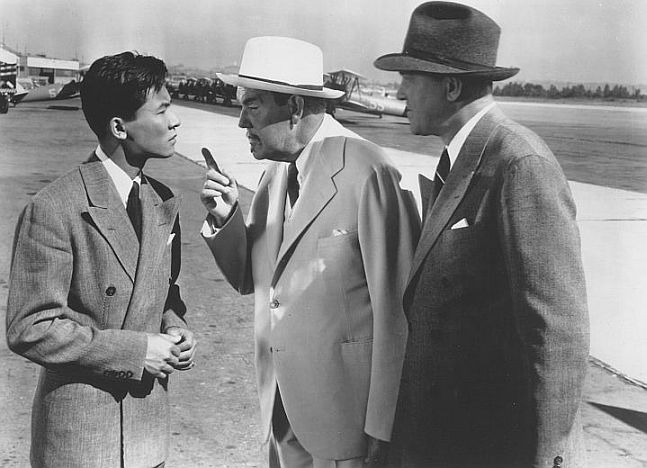 The blooper scene where not only Charlie, Jimmy and Inspector Vance change places but where they may have filmed the scene at the Burbank Airport instead of in New York!