A Special Entry for Charlie Chan at the Opera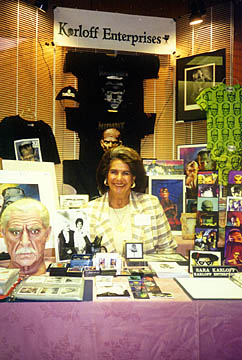 Sara Karloff Sparkman at the website she created in tribute for her father, www.karloff.com.
I had sent an email to Ms. Sparkman at her website in June of 2002. I mentioned Charlie Chan at the Opera with her father, Boris Karloff, playing such a prominent role. She very kindly sent me the following note:
"Thank you so much for your lovely email. I always enjoy hearing from my father's fans.
"I know from interviews my Father did that the set of Charlie Chan was sheer chaos with script changes every scene, actually being written as they were being shot.
"There is a wonderful biography on my father written by Scott Nolan in which that is one of the films he discusses.
"Have a lovely summer.
"Sara Karloff"
I hope this will add to your enjoyment as we get ready for our Monday Night Chat Room, 8:00 to 10:00 P.M. EST, at Rush Glick's website at www.charliechan.info.