A Charlie Chan at the Opera Introduction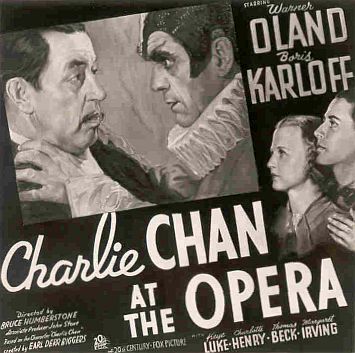 American Movie Classic's Bob Dorian introduced "Charlie Chan at the Opera" on May 24, 1993:
"[Boris Karloff had been slated for a movie] called 'Juggernaut' in England when he received a transatlantic telephone call.
"It was Twentieth Century-Fox and they wanted Boris Karloff for the newest Charlie Chan movie.
"Now who better to play a patient in a mental hospital, suspected of murder, than Boris Karloff.
"The ads proclaimed it was a battle of wits--Chan versus Karloff--in the most exciting Chan movie ever made.
"For once the ads didn't exaggerate because of Karloff's classic performance.
"Now, as you may know, the inscrutable Oriental detective was never played by an actor of Chinese heritage, unforunately.
"As a matter of fact, Warner Oland was born in Sweden, which was as far you could possibly get.
"In each Charlie Chan picture, the leading character was sent to
an exotic foreign capital or he was placed in a very special world like the circus or the race track.
"This entry series in the Chan series sees the detective at the Opera.
"Oscar Levant and Willim Kernell actually wrote an opera called 'Carnival,' specifically for this movie.
"And one unusual note before we get into the movie:
"For some reason it was banned in Germany by special order of the Reich censor.
"Now, remember this was in May of 1936, three years before World War II was to begin.
"What did the German government find objectionable about a Charlie Chan movie?
"I don't know.
"Maybe you can figure it out along with Warner Oland and me in 'Charlie Chan at the Opera' . . . .
"Epilogue:
"Keye Luke, Charlie Chan's # 1 son, he was originally an artist and designed movie posters and things like that before turning to action as a second career.
"And what an amazing career Keye Luke had.
"In addition to gaining worldwide fame in the Chan series, he was one of Hollywood's biggest character actors.
"He had continuing roles in the Dr. Kildare series, remember those, and he played the Green Hornet's assistant, Kato, in two series during the 40's.
"And he appeared as guest in more television series than probably I would have time to mention.
"His credits include "Fireside Chats," "Star Trek," "Charlie's Angels," as well as his memorable role as Master Po in the series, 'Kung Fu.'
"This was a great series, too.
"He wasn't always regulated to playing Chan's # 1 son.
"He finally got a chance to play Chan himself and that was on a Sunday morning cartoon called "The Amazing Chan and the Chan Clan."
"Sounds like a rap group, doesn't it?
"He's still active in Hollywood today.
"He was recently seen in Gremlins.
[Aired on the American Movie Classics Channel on May 24, 1993]