Mrs. Chan's Recipes in Honor of London
Mrs. Chan* has taken something of a vacation from these pagesbut she's back now! She has decided that you all might enjoy a recipe that I picked up a while back at www.basilrathbone.net.
It's supposed to be Mr. Rathbone's favorite dish . . . Roast Beef and Yorkshire Pudding (what you could call a very formal popover!). This was supposed to be from a booklet, Hollywood Recipes: Food Secrets of the Movie Stars by Delight Evans (really!), an Editor of Screenland Magazine (publishers: American Stove Company, 1938).
It calls for 1 1/2 tablespoons of hot fat that can be taken from a roast beef as it's baking, as originally done. I suppose you could substitute margarine, Crisco Oil, etc.

What I suggest is to put whatever you choose in the pan and put it in the oven to heat up just before you're ready to put the "Pudding" in. [I don't know why they call it a pudding since Yorkshire Popover would be more accurate!] Take the pan out and immediately put the pudding in and put it back up in the oven for the 40 to 45 minutes.

One difference between this dish and popovers: A Yorkshire Pudding rises somewhat on the sides and then collapses where a popover should puff up like a balloon and stay that way.



Good Eating!

Yorkshire Pudding

a la Basil Rathbone

Preheat oven to 375 degrees.

1 1/2 tablespoons hot fat

Shift flour and salt together.

Make a hollow in the center

and put the eggs and some

of the milk in the hollow.

Gradually mix in the flour

and salt mixture from all

all of the flour is mixed in,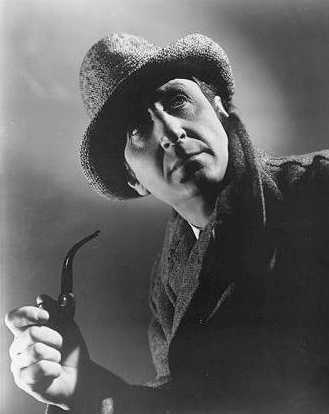 *Mrs. Chan is also known as my mother, Becky Truesdale!